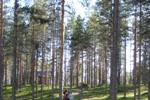 Post-conference Excursion
August 17-19, 2012
Oulanka Reasearch Station and National Park
Oulanka Research Station was established in 1966 to promote research and education in biological sciences and geosciences at the University of Oulu. Early research interests by the station included research and surveys on local flora, fauna and environmental conditions. In the 1990s, the environmental monitoring programs of the station were complemented by the European Monitoring and Evaluation Programme. Other important activities include phenological monitoring and analyses of water quality in streams, rivers and ponds. Today Oulanka Research Station is part of the Thule Institute.
Oulanka National Park is a superb hiking destination. The popular Karhunkierros Hiking Trail leads through the National Park. Hikers can get a general picture of the park's nature and see the national landscape even on day-trips lasting a few hours. The Park is located in north-eastern Finland in an upland region. Oulanka is a unique and versatile combination of northern, southern and eastern nature. The landscape is made up of pine forests, river valleys with sandy banks and rapids, and in the north of vast mires. The area is rich in animal and plant species, even endangered ones. Oulanka National Park in 2002 the park received the international PAN Parks Certificate (www.panparks.org).
Programme
Friday August 17, 2012

8:30
Departure at the Oulu city centre in front of City Hall
9:30
13:00

Saturday August 18, 2012

8:00
Breakfast
Optional activities:

Shooting the rapids (extra cost 50 €; read more...)
Tour to Kuusamo Fish Farm of FGFR (read more...), possibility to combine with rafting
Paddling with Indian canoe (extra cost starting from 50 €; read more...)
Small tour by bus: Kitkajärvi (lowered lake hydrology), Kiveskoski outlet, Juuma
Hiking at own (marked routes)

17:00

Sunday August 19, 2012

Optional activities
13:00

Departure for Oulu by bus

17:00
Arrival in Oulu
Accommodation options (price/option varies)
- Contact the the office for bookings: Phone +358 40 1678999/ E-mail: raija.kivela(at)oulu.fi
Single room (with extra cost)
Double room (included)
Separate apartment (with extra cost, limited availability)
Cost 160 €; includes travels to and from Oulanka, accommodation in double room, linen, all meals, the small tour by bus.
Extra costs: rafting 50 €, accommodation in single room, and accommodation in separate apartment